New Bequia Villa for Rent in La Pompe GRAND VIEW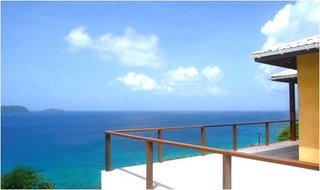 La Pompe has yet another stylish new villa launching onto the Bequia rental market. Grenadine Island Villas are very pleased to offer this newly completed stylish Bequia property. Designed by the Architect of Mustique Fame Thomas Dehen.
Grand View Cottage is a secluded hillside cottage with is BIG on views as the name suggests...

..."Imagine lying on your bed and watching the ocean through large French doors with views of the neighboring Grenadine islands rising from the sea in the distance.

Welcome to Grand View Cottage…. Far from the maddening crowds, nestled on the idyllic, secluded island of Bequia, Grand View Cottage is a luxurious island home with breathtaking vistas from every room."
Rental info: The villa has an upper and a lower level, and the two levels can be rented separately or as a whole house. Each level has two double bedrooms, and is 900USD per week. This property really is the perfect Bequia vacation base - a great escape, simple and stylish. For more information on this villa, please see our three listings for the property - Grand View Cottage, Grand View Cottage Lower and Grand View Cottage Whole House.

Labels: New Bequia Rental Villa Architect Thomas Dehen Friendship Bay La Pompe