Bequia - A traditional Caribbean Island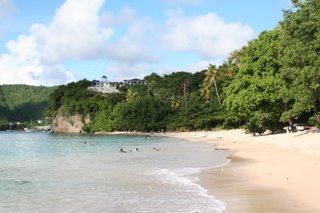 Although Bequia is arguably the most settled and established of the Grenadine Islands, it still manages to keep its authentic Caribbean nature . . . something which is harder to find on the larger, more popular islands of the Caribbean.
In a beautiful location, just a short plane ride or a relaxing day sail from some areas of exceptional, world renowned natural beauty, including the Tobago Cays Marine Park. Mustique is a mere 7 miles away, and can be reached easily by speedboat.
The island has a great atmosphere, and is rich in history and culture. The locals are welcoming and friendly, and there are local craft shops, a pottery and a museum. The local food is definitely something to embrace, and the relaxed Bequia attitude is evident wherever you are on the island. This is an authentic, true Caribbean Island, yet at the same time it is an island where you can still easily obtain all the modern necessities. Bequia is the perfect balance - it has not been over run and molded by big development, yet there is an airport, hospital, police station. There are schools and churches, and plenty to do.
The bustling Port Elizabeth harbour is a great, central part of Bequia. This little town has a great history, and visitors arriving from the ferry dock can expect a warm welcome from locals. Here you will find local craft shops, local supermarkets, waterfront bars and restaurants, and much more.
One aspect of Bequia that captivates its visitors is the stunning, unspoilt white sand beaches and the natural environment. There are spectacular views from points all across Bequia, and there is still plenty of woodland and greenery across the island.
Travel
Bequia has a small airport, with regular flights to and from Barbados.
There is a regular ferry service to St. Vincent, which also has an airport with regular Barbados flights and flights to other Grenadine Islands, including Mustique, Union Island, Grenada and Canouan. You can also reach Bequia easily via St. Lucia.
Once in Bequia, travel is easy - there are open backed taxis to help you get around, and bus stops at various points across the island. Of course there is also the fun option of a water taxi - a great, quick way to travel.
Have a look at the
great range of villas
available for rent in Bequia . . .
Or purchase your own piece of paradise . . .
We have a great selection of listings for both
villas and land for sale
in Bequia. This would be a great investment, considering the thriving tourist industry that has developed in Bequia over the past few years.
Octofinder
Labels: Bequia, Grenadines, Real Estate, Traditional Authentic Caribbean, Villa Rental