Learn to Dive in Bequia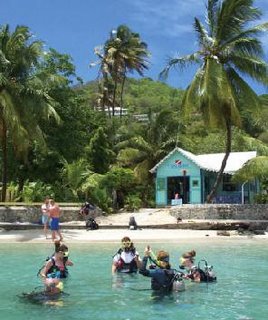 Learn to dive in beautiful Bequia
. . .
With the Caribbean Sea, wonderful reefs and over 30 fantastic dive spots, diving in Bequia is a great experience.
Easy to organise, with two waterfront dive offices that are just a short stroll from the harbour, along the Belmont walkway.
Bequia has two diving companies, Dive Bequia and Dive adventures, and Dive Bequia offers a free trial dive. This is an excellent feature, perfect for the more cautious visitors who aren't sure if they are confident enough for a full dive.
Whether you just want to have a couple of fun dives, or you want to get some qualifications under your belt, we can certainly help you arrange this. Due to being in such a fantastic setting, diving in Bequia seems natural and easy . . . just make sure you remember your underwater camera!
Snorkel masks, fins and wetsuits are provided, so all you need to do is make your way along the waterfront walkway and start learning some dive skills!
Both dive shops are right next to bars, cafes and restaurants, so after your dive you can sit in the sunshine with a cool drink and compare all you have seen with fellow divers.
We highly recommend this, and several members of our team have been diving and earned some qualifications, including PADI open water, and rescue diver under the fantastic supervision of the Dive Bequia staff. This is such great fun - Team members are patient and friendly, and training goes at a great pace. On the dives, the instructors know the best spots to find and point out the most fascinating and beautiful creatures, making the experience even more special. They also offer dive packages, so there is something to suit everyone.
"The team at Dive Bequia were amazing. I was really interested in going diving, but nervous, as I am not the most confident swimmer and the idea of going deep under water was a little daunting! I had a one on one session in the shallow water, and my confidence was built up until I was ready to embark on my first full dive. It was brilliant! Although anxious at the start, Cathy the instructor stuck with me the whole time, and I saw Lobsters, an Octopus and a Scorpion Fish, as well as many other colourful fish. It was a fantastic experience." - Aimee, May 2009
Dive Bequia
is open all year round, with dives daily at 9:30am, 11:30am and 2:30pm. The free trial is offered on Tuesdays at 9:30am.
If you would like any more information, please do contact our team, who will be pleased to share diving experiences with you, and help you to book your first dive.
TOP TIP - you can even tag along with the divers and join the Dive boat - which is a fun trip in itself! A snorkel mask is provided and this fun way to join in without going into the deep. This option is light on your pockets too just 10USD per trip.
Labels: Learn to dive in Bequia